Feature : Supply Cycle
We have created a direct distribution
route with the mines.
Also, we use
our recycling system
to ensure a stable supply
of resources.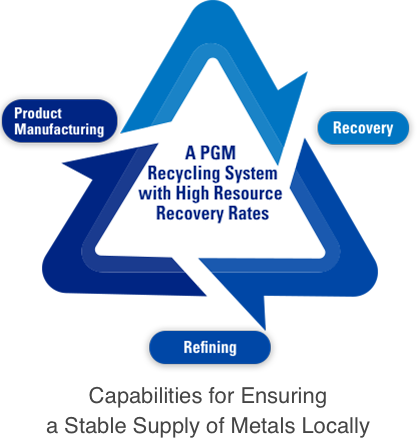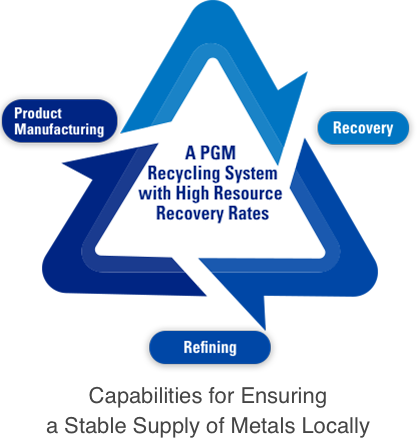 Capabilities of Ensuring a Stable Supply of Metals Locally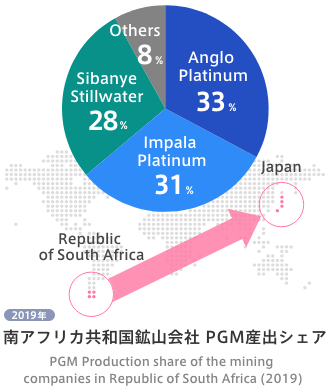 FURUYA METAL procures precious metals directly from three major mines in South Africa.
FURUYA METAL offers precious metals, focusing on platinum group metals (PGM), at stable prices and in stable volume and quality.
Stable Supply Cycle for PGMs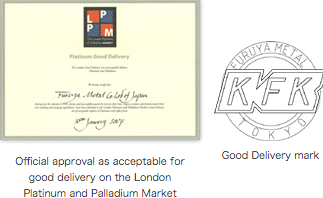 By working on the technically difficult recovery of iridium, ruthenium, and other metals, we have established original recovery technology. This has made possible efficient PGM recovery and high-purity refining across the range from high-grade materials to low-grade materials.
Responsible Minerals Procurement Policy
In procuring raw materials, Furuya Metal Group has established a procurement policy based on our belief that it is imperative to manage the risks in the business transactions involving platinum, palladium, tantalum, tungsten, tin, and gold. Furuya Metal Group strives not to procure raw materials related to conflict, complicity in terrorism, human rights violations, money laundering, etc.

Furuya Metal Group has established the "Furuya Metal's Responsible Minerals Procurement Policy" in order to assess, recognize and avoid such risks all the way from the procurement of raw materials until the final products reach consumers.

For the details, please go to the following: